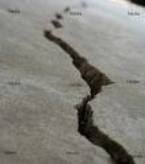 Do You Need a Geologic Check-Up?
California has the distinction of being one of, if not the most, geologically active states in the country. Active fault breaks have been mapped from one end of the state to the other and moderate to strong earthquakes occur on them fairly frequently.
Although not as much in the public view, landslides actually cause more damage than earthquakes because they occur more often. Geologic maps of Sonoma, Marin and Napa Counties show numerous existing landslides in most hillside areas.
Hillside homesites should be evaluated for their potential geologic impacts so levels of risk can be assessed. Maintenance of hillside homesites and prevention of hillside instability are relatively inexpensive compared to costs for repair of homes damaged by landsliding, and settlement or expansion of foundation soils.
An evaluation of geologic factors influencing a property should be performed by an engineering geologist and geotechnical engineer experienced in hillside home site stability. Features they will look for and you may consider in evaluating site stability are:

Occurrence of slumps or landslides
Site drainage problems

Clayey surface soils

Steep slopes

Occurrence of active faults

Cracked, tilted or displaced existing walls, concrete flatwork or pavements

If any of these features are observed or are known to be present on or adjacent to your building site, seeking professional help should be the next step.
Jim Glomb, an engineering geologic consultant practicing in Sonoma, Marin, and Napa Counties, offers the free service of locating your site on published State Maps and will indicate the proximity to known faults and landslides. For this free service or more information, please contact Jim at 707-237-2703.